Driving Lessons
Tracey is trained to the new client-centred learning standard as recently changed by the DVSA – this is a coaching style allowing learners more input to their own progress.
Lessons are available Monday–Friday, 7am-6pm, except Fridays, with lessons bookable between 7am-5pm.
All lessons are 2 hours – £60 (£30/per hour)
Top Tip: Book a 7am lesson with pick-up at home, and finish at your work place at 9am.
New Drivers
Tracey offers tuition if you are:
Aged 17 or over, or aged 16 or over and in receipt of all have applied for the enhanced rate of their ability competent personal Independence payment (PIP), or in receipt of the higher rate of Disability Living Allowance (mobility competent); and
hold a valid UK provisional driving licence; and
legally entitled to drive in the UK
You can apply for your provisional licence online at GOV.UK or in person at your local post office.
To apply for your provisional driving licence, you need to:
be at least 17 years old (you can make an application 3 months before your 17th birthday)

Have a valid proof of identity
Live in the UK
Give all addresses where you've lived over the last three years
Be able to read a new-style number plate from 20 metres or an old-style number plate form 20.5 metres
Not be prevented from driving for any reason
Pay £34 by debit or credit card
The DVLA will try to send you your provisional within 3 weeks of receiving your application although it can take longer if your health or personal details have to be checked.
Achieving your independence
Driving Test
The driving test consists of two elements: the theory and the practical test. Drivers must have passed their theory test before taking the practical test. Tracey can help pupils with both parts of the driving test.
The DVSA theory test consists of a multiple choice section and a hazard perception test. You need to be successful in both parts if you want to pass overall.
You can book a driving theory test at www.gov.uk/book-a-driving-theory-test
Make sure you've got the following information to hand:

Your provisional driving licence number

Debit or credit card details to pay for the test
Just like your theory test, you can book your practical driving test online via GOV.UK/book-practical-driving-test 
To book a practical test, you'll need:
A valid Great Britain or Northern Ireland provisional driving licence number
Credit or debit card details to pay for the test
Your theory test pass date and certificate number
Your driving instructor's personal reference number – to make sure they are available.
Tracey makes learning to drive safely enjoyable and as much fun as possible… If you live in Faringdon, Highworth, Shrivenham and surrounding areas please get in touch now.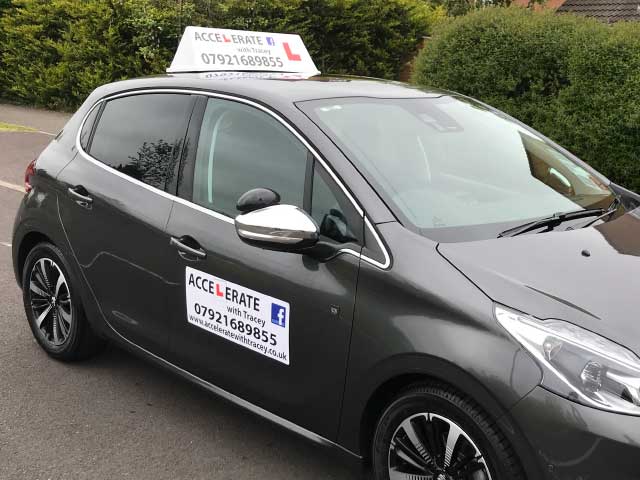 When it comes to wanting to learn to drive, Tracey is the perfect choice. Tracey creates a super comfortable environment and makes any nerves disappear with a great sense of humour. She always remains calm and is very adaptable to your schedules. With Tracey I managed to pass first time! You wouldn't find another instructor like Tracey and you certainly wouldn't regret having her in your passenger seat!  – SR

... from my very first lesson Tracey has made me feel comfortable and at ease. I always feel relaxed and confident in every lesson due to the motivation she gives! What I also really enjoy is the fact she has a sense of humour.
Would highly recommend to anyone!! – CG

Tracey is a lovely lady, knows how to have a giggle and makes you feel so much at ease! So patient especially when you forgot your right from left.
Thank you for your help Tracey 5* Lady – SC
Book a driving lesson today
For driving lessons in Faringdon, Highworth, Shrivenham and surrounding areas with a calm, patient and friendly driving instructor please get in touch with Tracey now.
Payment
Payment can be made via bank transfer and should be made prior to your lesson. Please contact Tracey directly for bank details should you wish to pay by this method. Alternatively you can make a cash payment at the start of your lesson.
Cancellation
If you need to cancel a lesson, a minimum of 48 hours prior notice should be given. If you do not give 48 hours prior notice you will be charged in full for the lesson concerned.
Privacy Policy
The only cookies in use on this site are for Google Analytics which reports website trends without identifying individual visitors. You can opt out of Google Analytics without affecting how you visit this site – for more information on opting out of being tracked by Google Analytics across all websites you use, visit this Google page.